Kawasaki Japan, March 26, 2018 — MediaLinks LSILab Co.,Ltd. (M3L) today announced first customer shipment of the IP cores IP_SMPTE2110 for SMPTE ST2110-10/-20 and IP_SMPTE2059_SLV for ST2059 slave.
As we unveiled on October 16th last year, we have been developing the cores of IP_SMPTE2110 and IP_SMPTE2059 series. This announcement means that the development has progressed steadily and the first product could be ready to release the IP cores which are compliant to a part of SMPTE standards into the market. In addition, the development of the cores is still continuing to implement the remaining specification. Its development roadmap will be announced as other news release soon.
Although the IP cores to be released this time is basically target to the industry-best 16nm-process Xilinx Kintex UltraScale+ FPGAs, we can also consider expanding the target FPGAs sequentially according to customer requirements.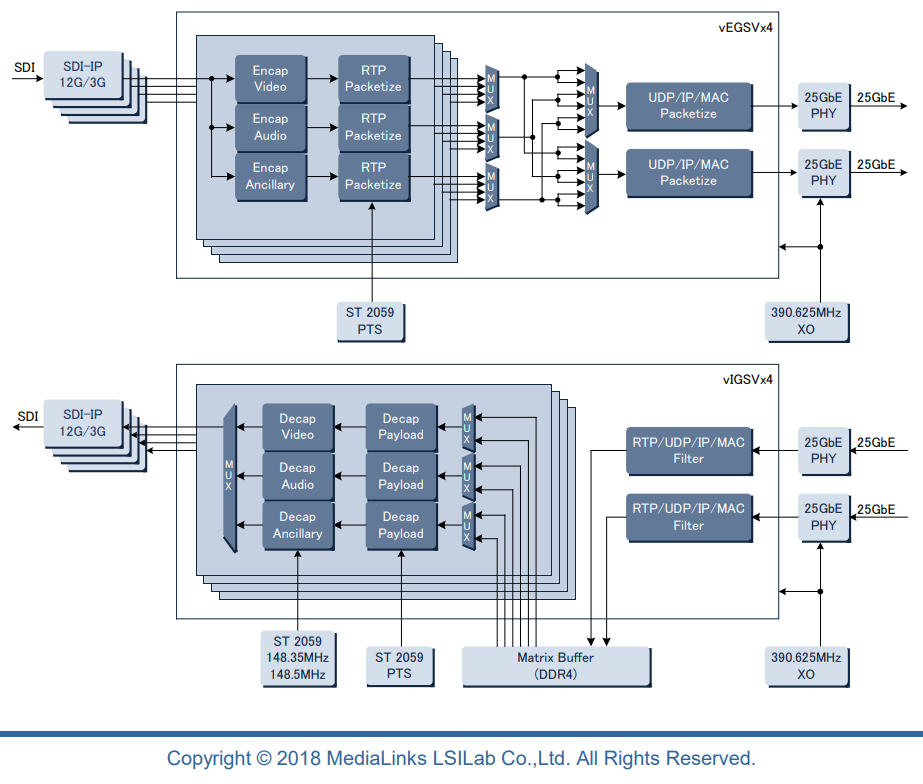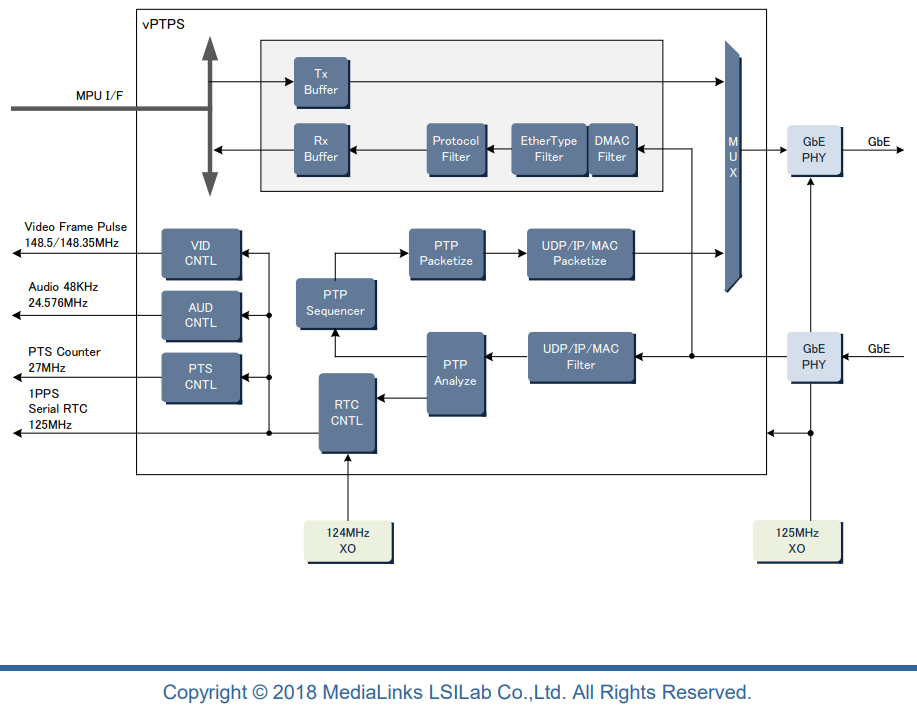 New M3L IP-Core Products

About SMPTE ST2110

The industry standard ST2110 prescribed by SMPTE (Society of Motion Picture and Television Engineering) is a basic protocol to connect with data streams between production and playout equipment, so that it can be used on an IP network replacing the conventional SDI connections. The IP production has been expected in the future to virtualize the system configuration and to improve work efficiency by cloud computing.

About SMPTE ST2059

The industry standard ST2059 defines the time stamping method by PTP (Precision Time Protocol) used with ST2110. It aims to synchronize time between devices connected by IP network with accuracy of less than microsecond. PTP uses the IEEE1588 standard of network industry.

About Xilinx FPGAs

Xilinx, Inc. (NASDAQ:XLNX) at San Jose, California is the leading provider of All programmable FPGAs, SoCs, MPSoCs, and 3D ICs. They are well known for inventing FPGA (Field Programmable Gate Array), and have Virtex, Kintex, and Artex family products. Kintex family is a mid-range device and its great functionality and performance is suitable for broadcasting market.
FPGA is an integrated circuit that the user can program and configure its functionality after purchase. A user generally design a logic and funtion by using hardware description language (HDL) in order to set up the functionality.
M3L is a member of Xilinx Alliance Program.

IP Cores

IP core is partial circuit information and/or design assets for configuring LSI and FPGA. Its design is generally acheived by hardware description language (HDL). The business model that delivers IP cores between companies is also established. The company that develops and sells IP cores is called a IP vender and M3L is one of IP venders.

 About M3L

M3L is a design engineering company of IP cores dedicated into broadcast and wireline communication market which provides Video-over-IP solution by using SMPTE ST2110, ST2059, and ST2022 technologies.
We have been having a motto Quality & Speedy and then supplying IP cores to make your business succeed since 1997 when we established the company. This 20th anniversary is the year of our new challenge. We will develop and release new cutting-edge IP cores for Xilinx FPGAs so that you can achieve your business leveraged by our design.

Inquiries

Koji Oyama

Director, Business Development, MediaLinks LSILab Co.,Ltd.
email: oyama@m3l.co.jp

Copyrights

(C) Copyright 2018 MediaLinks LSILab Co.,Ltd.
M3L, MediaLinks LSILab Co.,Ltd., the M3L logo, M3L products name and other designated brands included herein are trademarks of M3L. All other trademarks are the property of their respective owners.